Secular Bull Markets in Commodities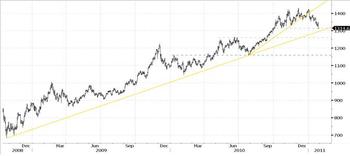 Gold, silver, platinum, copper, crude oil, corn, wheat, sugar... you name it. Many commodities are in the midst of their respective secular bull markets, structural uptrends that may last for years if not decades to come. Several factors are at play here.


Global demand growth: With the population growth in many emerging economies, along with their swelling consumer base, food and energy needs are driving global demand. Infrastructural building in the emerging nations is driving basic metal demand.

Supply constraints: Grains and livestock require a disproportionate amount of water. As clean water sources become increasingly scarce in many parts of the world, grain and livestock prices will rise.

U.S. dollar devaluation: Prices of precious metals such as gold, silver and platinum are driven higher by the U.S. government's money printing press, which essentially devalue each dollar's worth. See the Currencies section for further discussions.

Investment growth: The ever-expanding number of Exchange Traded Funds (ETFs) that invest in commodities creates an unprecedented demand for many commodities. Witness the tremendous expansion in the two largest gold ETFs -- GLD and IAU. Separately, ICBC, one of China's largest banks, working with World Gold Council, has rolled out an automatic investment program to allow their clients to accumulate gold. These are but two examples of growing investment demand for commodities.

---