Rates going up? It's only a matter of time...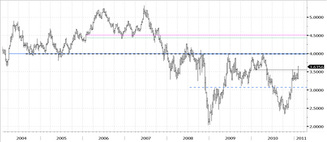 Short Rates are at limit lows: Short-term interest rates are controlled by the Federal Reserve's FOMC through the Fed Funds Rate, which has been set at a record low target of 0.00-0.25% since December 2008, with actual trading averaging 0.16%. The Fed Funds rate strongly influences the yields of Treasury Bills and Notes up to 2 years or so maturities, as well as the Prime Rate.

At Fed Funds + 3% since the early 1990s, Prime Rate is the basis for many consumer loan rate calculations, from credit cards, car loans to adjusted mortgage rates… With the Fed Funds practically at zero, short-term rates are basically as low as they can go for banks and consumer alike. Eventually that will have to change.

Caveat 1: Interest rate can remain low for quite some time. For example, Bank of Japan has kept their short-term target rate, or the Call Rate, at 0.50% or below since 1995. However, U.S. appears more likely to fall into an inflationary environment (see the Currency section) instead of the deflationary recession that plagues Japan for some two decades. As such, a Japan-like decade-plus period of near-zero rates is a low-probability scenario.

Caveat 2: On the consumer front, the Fed could potentially "recommend" that banks shrink the spread between the Prime Rate and Fed Funds Rate from 3% to prod the economy along. Such a last-resort move would seriously cut into banks' profit margins –– an unlikely move unless the economy is on dire strait.

Supply/Demand imbalance lifting the long end: Long-term interest rates are largely market driven. Foreign governments are among major holders of our Treasuries, and, with many of them moving away from dollar-denominated assets (see the Currencies tab), a drop in foreign demand for Treasuries will exert upward pressure on yields.




---